Deqode, a 400+ members strong IT services company is proud to announce its participation as a sponsor of the T8 Corporate Cricket Tournament held on the 25th and 26th of February, 2023. The tournament featured 12 corporate teams competing with each other with zeal and enthusiasm.

The tournament was a two-day event, with all teams playing their best to win the title. The event was organized by Corp Fit and Eventique. The associated sponsors of the event were Decathlon, a renowned sports goods company, and the title sponsor was Plantix, a leading agri-tech startup. The tournament was a great success, with a large turnout of cricket enthusiasts cheering for their favorite teams.
The winner of the tournament was TCS, which won a cash prize worth 31,000 along with other goodies worth 20,000. Team Deqode put up an impressive performance, displaying their skills and teamwork on the cricket field. As a leading provider of blockchain, web development, cloud, and mobile application development, we pride ourselves on our talented team of professionals who strive for excellence in all aspects of their work. We are hiring for all leading tech roles, and we invite aspiring professionals who share our passion for innovation and excellence to join our team.

Deqode was honored to sponsor and participate in this exciting event, which brought together individuals and corporations from different backgrounds to showcase their talent and passion for cricket. We believe that sports and recreation are important for creating a healthy work-life balance, and we are proud to support initiatives that promote this culture.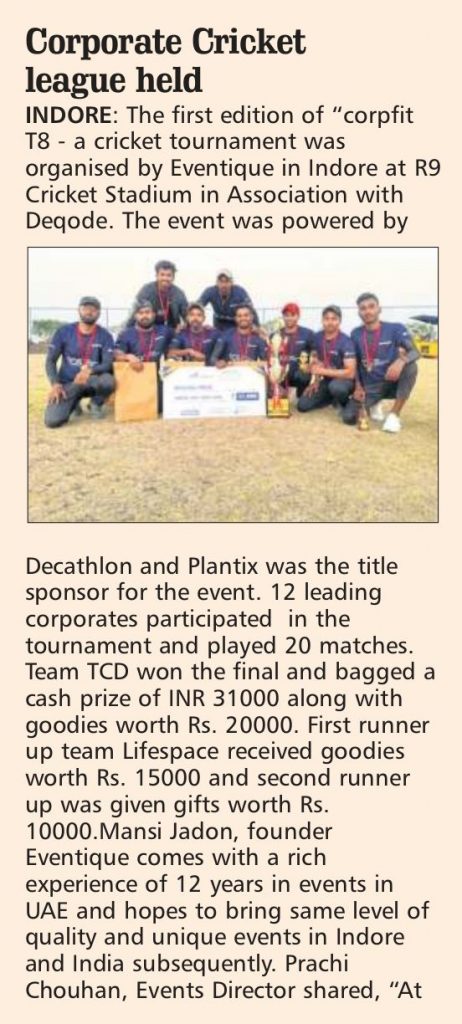 We congratulate TCS on their victory and all the other teams who participated in the tournament. We look forward to more such events in the future and hope to continue supporting and promoting sports and recreation activities in our community.
Watch the full story here.