In today's rapidly evolving digital landscape, businesses are constantly seeking ways to accelerate their product development, reduce costs, and improve efficiency.
Deqode, a leading IT outsourcing company based in the United States, offers a comprehensive suite of services designed to address these challenges head-on. With their commitment to excellence and expertise in leveraging new-age technologies, Deqode is recognized by GoodFirms as one of the top information technology companies.
Empowering Businesses with On-Demand Technical Workforce
Deqode's value proposition lies in providing an on-demand technical workforce that functions like an in-house team for your organization. Their deeper expertise in product engineering allows you to accelerate your product's time to market and reduce overhead costs. By leveraging Deqode's services you get the opportunity to harness the power of a dedicated technical workforce while minimizing costs and maximizing efficiency.
Deqode's IT outsourcing services go beyond traditional solutions, providing businesses with a reliable and skilled workforce that seamlessly integrates with their teams. With a focus on reliable and skilled engineers, zero infrastructure costs, and dedicated client partners for quick resolution and escalation, Deqode excels in addressing the pain points of businesses seeking IT outsourcing solutions. With Deqode by your side, you can easily accelerate your product development, reduce overheads, and achieve your business goals with ease.
Engineering as a Service: Benefits That Sets Deqode Apart
Deqode offers a range of benefits that differentiate them from competitors in the IT outsourcing space:
Quick Ramp Ups and Ramp Downs: Deqode enables quick and seamless scaling of your team, allowing you to adapt to changing project requirements efficiently.
Experienced Engineers for Quick Onboarding: With Deqode, you gain access to a pool of experienced engineers who bring their expertise to the table, ensuring a faster onboarding process and smoother project execution.
No Contractors, Only Full-Time Employees:Deqode's team comprises full-time employees with verified engineering backgrounds and extensive experience. This ensures dedicated commitment and higher quality deliverables.
Flexibility in Your Time Zone: Deqode understands the importance of effective communication and collaboration. They offer flexibility in working according to your time zone, fostering seamless teamwork and efficient project management.
Metrics That Support Deqode's Value Proposition Claims
Deqode's value proposition is backed by concrete metrics that showcase their ability to deliver results:
100% Joining and Onboarding of Engineers: Deqode ensures a quicker time to hire, allowing you to ramp up your team promptly and commence project execution without delays.
30% Cost and Overhead Reduction:Deqode's IT outsourcing services help businesses reduce costs and overheads significantly, enabling them to allocate resources more efficiently.
Ramp Up Your Team in Just 1 Week:Deqode's streamlined processes and access to a vast talent pool enable them to rapidly scale up your team within a week, ensuring faster project execution and time-to-market.
By Leveraging Deqode's Core Services, Clients Can Effectively Attain Their Business Goals
Deqode helps you in every stage of the digital journey, offering expert guidance that spans from consulting on digital transformation to developing a full-proof software product to IT outsourcing. Deqode's services enable you to optimize your return on investment with ease.
Some of the services that receive the most traction are: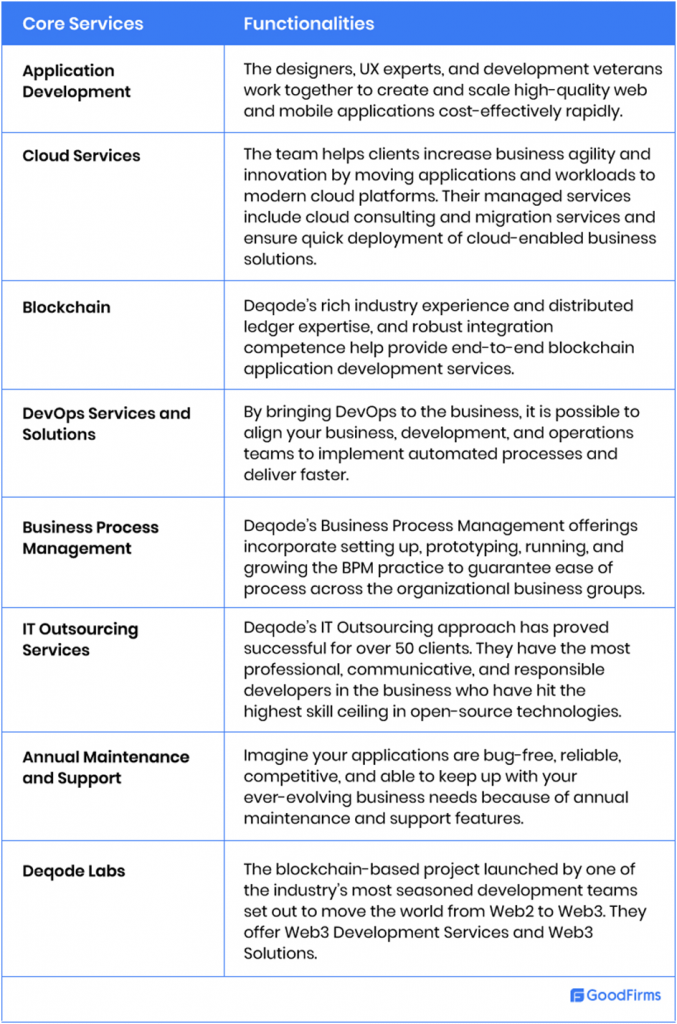 Company's Overview
The US-based Deqode (formerly Techracers) was founded by a group of technical architects and consultants a decade ago. Deqode is a leading IT outsourcing firm that specializes in staff augmentation, increasing effectiveness, and stimulating growth through its in-depth understanding of the industry and technical skills.
GoodFirms, the B2B research and review platform, acknowledges Deqode as among the Top Information Technology Companies. It has developed several products that use superior technology and continually works to enhance the products and first-class development services offered to its clients.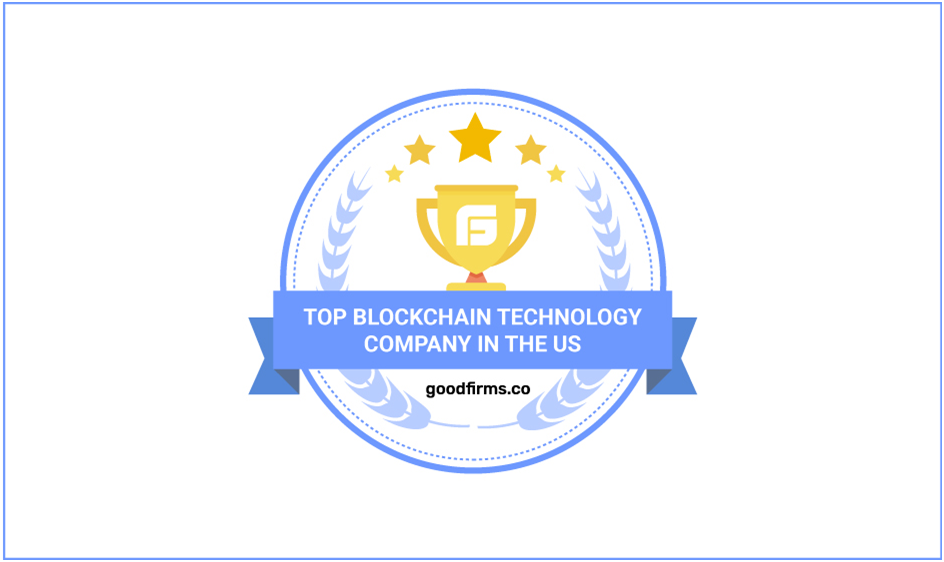 Company's Values
Their five values have been the fuel behind their rapid growth.
Exceed client's expectations
Humbleness, trust, and respect
Collaboration and support
Curiosity and innovation
Empathy and compassion
Reasons To Pick Deqode ForIT Development
Here are the reasons why you should use Deqode to build your blockchain app:
150+ Products Engineered
100+ ApplicationsDeveloped
10+ Awards
7+ Development Centres
100+ Clients
20+ Countries
95% Clients Retention
12+ Industry Verticals
End-to-end Software development
Partners with AWS, Microsoft, Google Cloud and Azure
Key Clients & Portfolios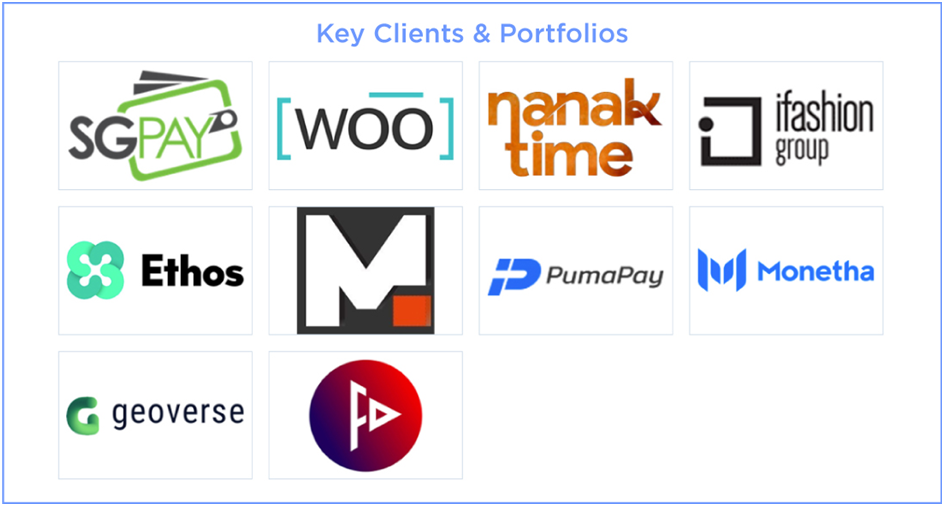 Client's Review
The following review at GoodFirms from a satisfied customer illustrates why they recommend Deqode: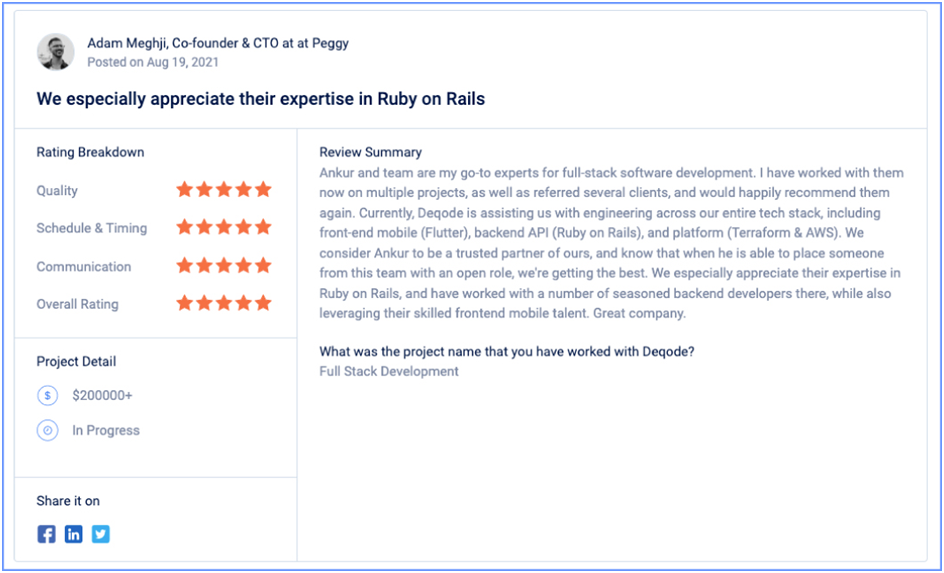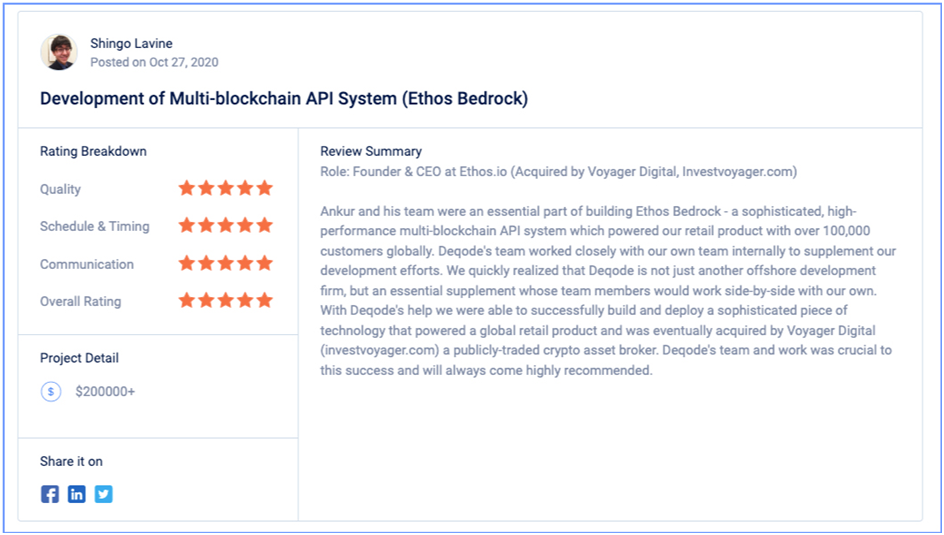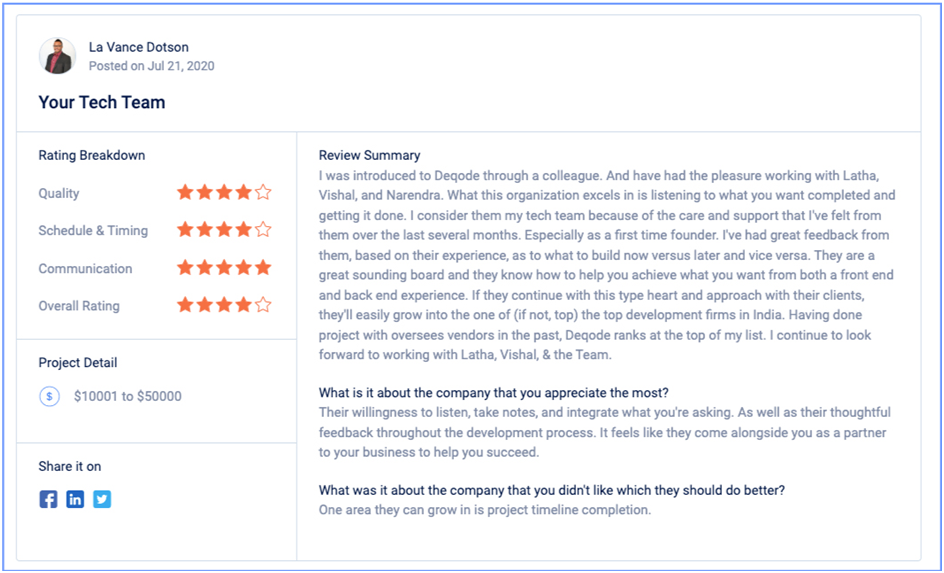 Deqode has proven time and again that it has a talent for ensuring total customer happiness with its advanced software development services, IT outsourcing services and glowing customer ratings.
GoodFirms Research Methodology – An Innovative Way to Identify Experts
GoodFirms Research Methodology is a systematic approach towards ranking firms according to their expertise which helps companies to find the right technology partner as per their needs. GoodFirms follows a specific performance algorithm that functions by analyzing an organization's overall performance in relation to a number of established metrics and competencies. The evaluation decides the ranking on our listing pages for deserving companies.
About GoodFirms
GoodFirms is a trusted B2B review and rating platform helping businesses accelerate their digital journey and maximize modern technology's value. The company connects service providers with service seekers through a comprehensive and thoroughly researched fact-based list of the best services and solutions. Recognized as the most reliable source for the B2B market, GoodFirms has world-class experience with partners across the globe.
Author Bio: Ryan Allen is a content writer @ GoodFirms – a full-fledged research and review platform offering an excellent platform to all software and mobile app development to excel in their respective fields. He has a Master's degree in Journalism and is an avid non-fiction reader.