Everyone is talking about digital transformation these days, but the most challenging aspect of it is not deciding to do it; it's figuring out if you're getting real benefits from your investment. Many companies find it tough to identify which actions actually make a big difference and which investments bring the most value to the business.

We examined which trends can increase the odds of transformation success, and can drive value: these trends when implemented correctly, they can lead to significant returns on your tech investments.
In the light of recent economic uncertainty, tech executives have become cautious about pursuing risky innovation projects. However, they still see digital transformation as a worthwhile investment. According to a recent survey conducted by Deloitte in February 2023, executives believe that modernizing digital infrastructure offers significant potential benefits and is relatively less challenging to achieve. Notably, their main goals for digital transformation efforts include enhancing efficiency, improving existing offerings, and developing new products and services. While reducing costs remains important, it ranked fourth among their priorities (see figure).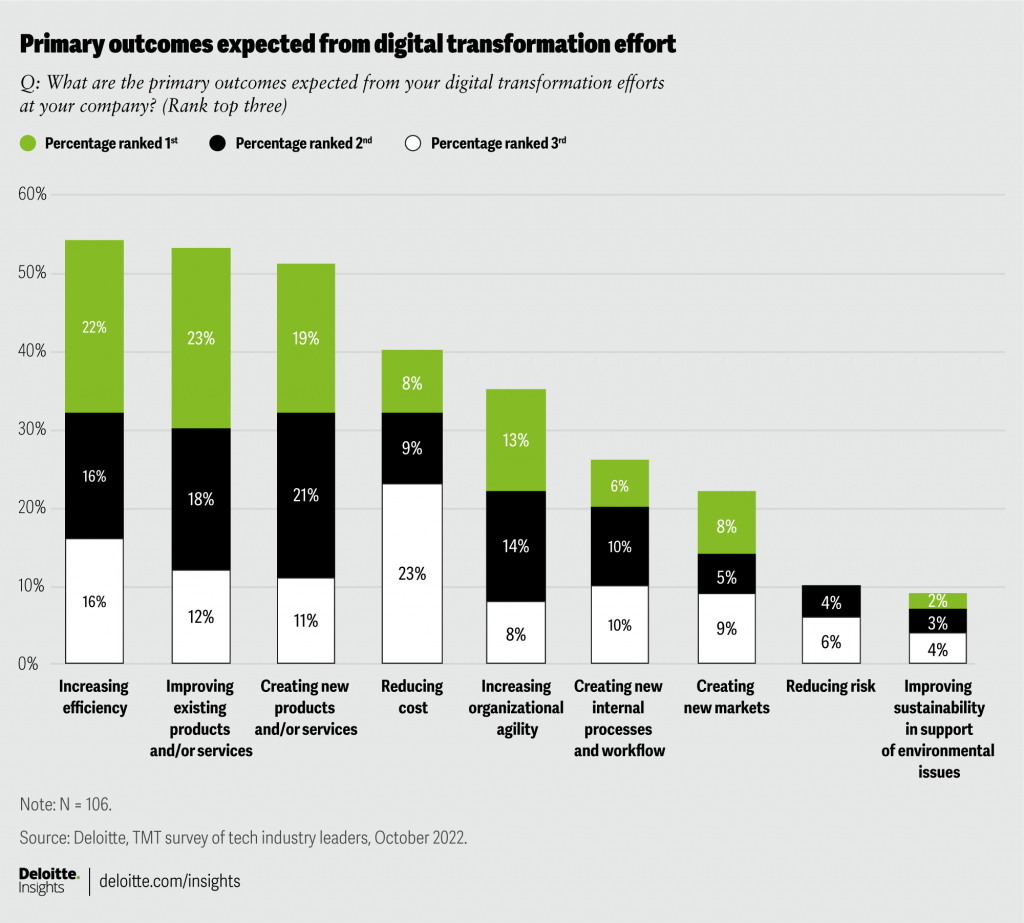 In the tech industry, leaders face numerous strategic priorities that compete for limited resources. However, they continue to prioritize digital transformation above all else. Their goals encompass digital transformation, cost optimization, addressing talent challenges, and making necessary reductions. Even with other essential projects like sustainability, executives still view digital transformation as their primary focus for 2023.
Leaders firmly believe that compromising on digital transformation investments is not an option because it represents the future. They cannot afford to put this process on hold as it would provide competitors with opportunities to gain a competitive edge. Therefore, they recognize the urgency of embracing digital transformation to maintain a leading position in the industry.


3 Key Digital Transformation Trends to Watch in 2023
1. AI: A Greater Role in Digital Transformation

The wave of digital transformation is changing compared to the past few years. Now, instead of just focusing on moving to the cloud, companies are integrating artificial intelligence (AI) tools into their software and business operations. This evolution of digital transformation goes beyond updating infrastructure.

In the last few years, it was all about moving to the cloud. But now, businesses are asking questions like: How can we use AI and machine learning to make smart decisions? How do we use generative AI to automate tasks that were once manual? How can we utilize data to break down barriers between departments and create smoother processes that give us a better understanding of the business?

Experts agree that increasing automation in a challenging economic climate makes sense. Leaders see AI as a way to cut costs, minimize errors, and automate tasks, all of which can make the company more efficient.

While leaders acknowledge AI's role in transformation, they haven't fully explored its potential impact on customer-facing processes and products yet. Consulting giants like Deloitte and McKinsey emphasize focusing on AI-driven solutions, real-time decision-making, and conversational chatbots to drive progress.
2. Cloud Migration
According to McKinsey, many companies plan to invest a large portion of their IT budget in cloud computing by 2024, aiming for around 80%. This includes various cloud services like PaaS, IaaS, SaaS, and private cloud. McKinsey predicts that companies leading in cloud migration could potentially unlock a whopping $1 trillion in value.

The increasing popularity of cloud computing can be attributed to several benefits that contribute to the success of digital transformation:

Efficiency:
Cloud computing provides easy access to computer resources on-demand, leading to improved efficiency. It can enhance remote working, reduce operational costs, simplify scalability, and promote collaboration among different departments. This ultimately saves time and money for businesses, with reports showing 80% of companies experiencing cost savings, increased productivity, and improved security through cloud adoption.

Accessibility:
With cloud adoption, employees, clients, and stakeholders can access information and applications from anywhere in the world via the internet. This becomes particularly valuable for remote or global organizations that rely heavily on digital solutions.

Scalability:
Cloud computing allows businesses to scale their IT solutions according to changing needs, whether it's data storage capacity or processing power. It becomes crucial for businesses expecting rapid growth or with long-term development strategies.

Security:
Cloud adoption leads to a significant increase in security, with businesses reporting a 94% improvement. Strong security measures are vital for safeguarding digital files, data, and programs, minimizing the risk of breaches as businesses undergo digital transformation.

However, before undertaking a cloud migration, businesses should consider some essential aspects. They need to decide on the type of cloud infrastructure (public, private, or hybrid), prepare their teams for the significant organizational change, assess migration costs and realistic timelines, and have contingency plans in case of unforeseen disasters.

Cloud migration is an important process, requiring a tailored approach based on individual business needs. Getting support from cloud experts can make the transition smoother. At Deqode, our Cloud Engineering Consultants are skilled in various cloud specializations and can guide and support businesses throughout the entire process.

3. Customer Experience as a Market Differentiator
In today's digital world, your biggest competition is the great experiences your customers have had in the past. As they encounter more seamless and user-friendly digital interactions, their expectations for how they engage with your business increase too.

To succeed in this digital age, companies need to provide smarter and more customer-focused interactions that feel tailor-made for each individual and their unique circumstances. To achieve this, businesses are actively involving customers in the process of innovation, brand marketing, and product development. This way, they can offer more relevant products, services, and, most importantly, personalized customer experiences.

While many businesses have focused on making digital transactions easier for customers, in 2023, we'll witness a new trend. Customer experience will become a crucial differentiator, and advancements in technology will enable companies to enhance existing digital interactions with customers.

Leading companies have already taken steps in this direction. For example, some retailers have introduced virtual dressing rooms and avatars to show how clothes will look on customers, and 3D environments have simulated product placement in homes. Businesses like Hugo Boss and Walmart, which embrace such customer experiences, have seen significant benefits in terms of revenue and customer loyalty.
Recommendations for Technology Industry Leaders
For many leaders, digital transformation might seem like merely upgrading technology and improving data management. They often prioritize benefits such as increased efficiency, product improvement, and cost-saving. Despite the rise of AI, these goals still dominate their interests. However, in doing so, are they overlooking a more significant opportunity? Are they becoming too internally focused, neglecting the potential for creating new abilities, products, and fostering business growth?

To avoid a narrow approach to AI-powered digital transformation, one should consider the value it delivers. Digital transformation encompasses more than just technology; it's about enhancing customer value. Migrating to the cloud is just one aspect of a broader transformation that leaders must envision—transforming their entire business, including IT, to add value both internally and to their customers. That's the right way to approach it.
Ready to capitalize on one or more of these trends in 2023? Let's get started.
All three of these trends have a common goal – to prioritize human-centered design in every aspect of business. Whether it's improving customer experiences, implementing human-led interventions, or creating efficient systems, the digital transformation trends in 2023 will all be geared towards enhancing critical human-to-human interactions.

When it comes to tackling this unique IT challenge, there are few teams as capable and experienced as ours at Deqode. We offer a comprehensive suite of services and expertise to address your digital transformation needs.

If your organization sees digital transformation as a crucial business objective for 2023, don't hesitate to reach out to our team of experts. We're here to provide personalized guidance and support to help you kickstart your transformation journey.