In today's dynamic business landscape, the cloud has evolved from a mere buzzword into the driving force propelling us into a new era of transformation. While many companies have dipped their toes into the waters of cloud technology, only a select few have fully harnessed its transformative potential.

Recent insights from this study reveal that these cloud-powered enterprises are not merely adopting technology; they are orchestrating a paradigm shift, charting new courses, and reaping significant value. As we journey through this exploration of their strategies, we uncover four distinctive avenues that are reshaping the future of business.
Beyond Migration: A Holistic Cloud Approach
The pioneers of the cloud era understand that this isn't just about migrating workloads or modernizing assets; it's about orchestrating a holistic digital transformation. They're the maestros of strategy, carefully assessing each scenario to determine the best approach for their unique goals. It's not about rushing headlong into the cloud; it's about thoughtful consideration of factors such as risk, customer needs, and talent availability.
They ponder the choice of retaining data or legacy applications in-house when it makes sense or exploring the boundless opportunities of managed services. These visionaries also have their sights set on industry-specific cloud solutions, complete with AI capabilities, offering a flexible starting point that ignites innovation.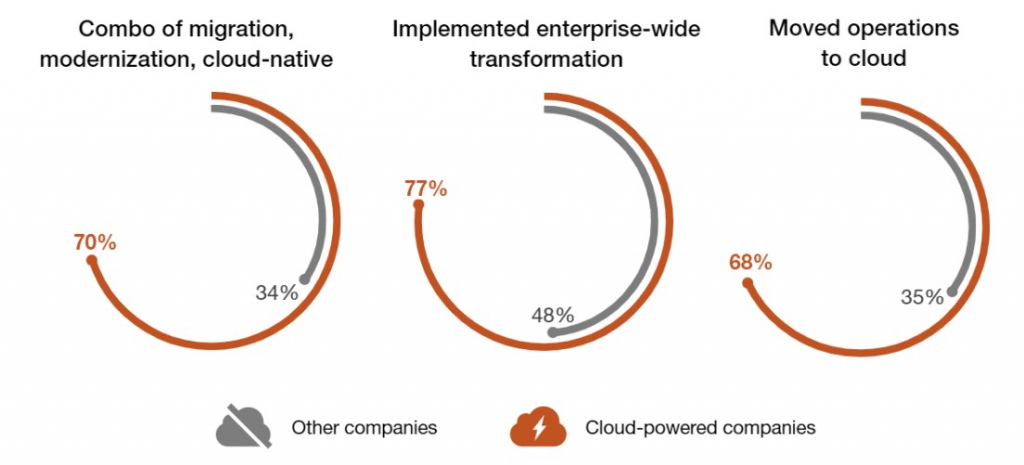 C-Suite Synergy
In the world of cloud-powered businesses, collaboration knows no boundaries. It's a symphony orchestrated by CIOs and technical teams in close partnership with departments like CHRO and talent teams. They understand the pivotal roles these cross-functional partnerships play in the successful implementation of cloud projects.
This collaborative spirit doesn't stop at departmental doors; it extends to finance leaders, ensuring the scalability of cloud transformation projects and the creation of a unified financial model with minimal unforeseen costs. Beyond the balance sheets, these collaborations extend to the world of Environmental, Social, and Governance (ESG) leaders, guiding the measurement of the environmental impact of cloud solutions and aligning data collection with ambitious net-zero goals.

Data Mastery and AI
Data is the lifeblood of transformation, and cloud-powered companies recognize this better than anyone. Companies don't merely collect data; they craft comprehensive data strategies that outshine their peers who haven't embraced the cloud as thoroughly. These strategies aren't just pieces of paper; they are blueprints for unlocking the full potential of data.
To become data-driven, they construct streamlined data architectures, institute effective governance structures, and empower their teams with the right skill sets. With their data infrastructure in place, these companies step into the realm of machine learning and AI with confidence, embracing the power to reduce costs and accelerate processes. Cloud-based AI services aren't mere tools; they are engines of automation, decision-making, and strategy modeling, requiring a seamless blend of business acumen and data science expertise.

Trust as a Foundation
For cloud-powered companies, security, privacy, and compliance are perpetual priorities. They don't just pay lip service to these principles; they invest dedicated resources to ensure the safety and regulatory compliance of their cloud operations. These forward-thinkers aren't just content with addressing today's risks; they are pioneers in considering the risks of emerging innovation frontiers, such as the metaverse and Web3. They don't just extend risk frameworks; they redefine them to ensure the responsible use of these cutting-edge technologies.

Today, cloud-powered companies aren't followers of trends; they are the architects of change. By adopting a holistic approach, fostering collaboration across borders, crafting data strategies that empower, and embedding trust as a cornerstone of their operations, they're not just rewriting the rules; they're redefining the future. These are the pathfinders of a new business frontier, setting the standards for innovation, resilience, and success.
Conclusion:
The journey of cloud-powered companies isn't just a technological evolution; it's a revolution that redefines business excellence. Companies have learned that the cloud isn't just a tool; it's the catalyst for holistic transformation. They've shattered silos, fostering a culture of collaboration that knows no boundaries. With their comprehensive data strategies, they're not just data collectors; they are data innovators. Trust is not just a word; it's the bedrock of their operations.

And trust is what we ensure. At Deqode, we are passionate about being at the forefront of these transformative journeys, leveraging our expertise in Cloud tech and Managed IT services.

Partner with us today to unlock the power of Sovereign cloud services and gain a competitive edge in this exciting frontier of technology.