Today, organizations are compelled by the current business environment to thoroughly consider and prepare for their future. Forward-thinking businesses are aware that embracing a digital transformation will soon be necessary to remain competitive.

Innovative tools like Web3, AI, and the Internet of Things (IoT) transform how businesses function and provide value to their clients. They make it possible to enhance operations, cut expenses, and increase output while increasing flexibility and efficiency.

Many firms rely on managed IT service assistance to provide a comprehensive roadmap for infrastructure upgrades and technology implementation for their company in order to adapt to this business digitalization. Even tech-savvy firms need help from Managed IT Services to carry out their digital transformation strategy. A managed IT service can deliver this process successfully ensuring lots of benefits.
What is Digital Transformation?

The fact that the term "digital transformation" has gained popularity shows how crucial it is for both small and large businesses. But does a company's digital transformation merely signal a move to the cloud?

Digital transformation, in its simplest form, is the process of modernizing outdated operating models, enabling experimentation, automating procedures, accelerating business processes, and improving responsiveness to consumer needs.

By deciding to outsource some of their operations, businesses are better able to focus on their core business activities and re-energize their staff as a result of the rapid and successful introduction of new technology. Forward-thinking organizations have already recognized IT outsourcing trends and that digital transformation paves the road to being future-proof in today's global business climate.

Many CIOs want to free up their staff to focus on strategic tasks by moving software to public cloud platforms and outsourcing administration and maintenance for developing, processing, storing, and other capabilities. More businesses are outsourcing services and automating value-adding tasks, such as managed IT services.
Benefits of Digital Transformation for a Business:

With easy remote access, automated process, lower cost, and higher revenue – You can transform your business and services inside out via the digital technology lifecycle. Some of its benefits include:
1. Better Customer Experience:
Customer happiness is the ultimate goal of every business. The better the customer satisfaction levels; the faster the turnaround time and higher the digital transformation success rate will be. IT outsourcing market is the best option for better customer experience.

2. Higher Efficiency:
Through the automation of processes, digitization ultimately saves money for the organization by eliminating time-consuming manual labor.

3. Improved Data Collection & Analysis:
The gathering of web data is another perk. It becomes simpler to gather vast amounts of data, analyze and track customer information, and improve business tactics.

Challenges Involved in Performing Digital Transformation In-House?

Presence of complexity due to multiple systems
Lack of digital skillset
Fundamental limitations of the Agile Transformation process
Lack of a safety-first digital transformation process
Which Digital Transformation Projects Are Most Frequently Outsourced?
Since digital transformation with technology is fruitful in providing better, advanced, and digitally-backed custom experiences, companies are investing more and more in it.

Here are some of the top digital transformation projects that are outsourced the most: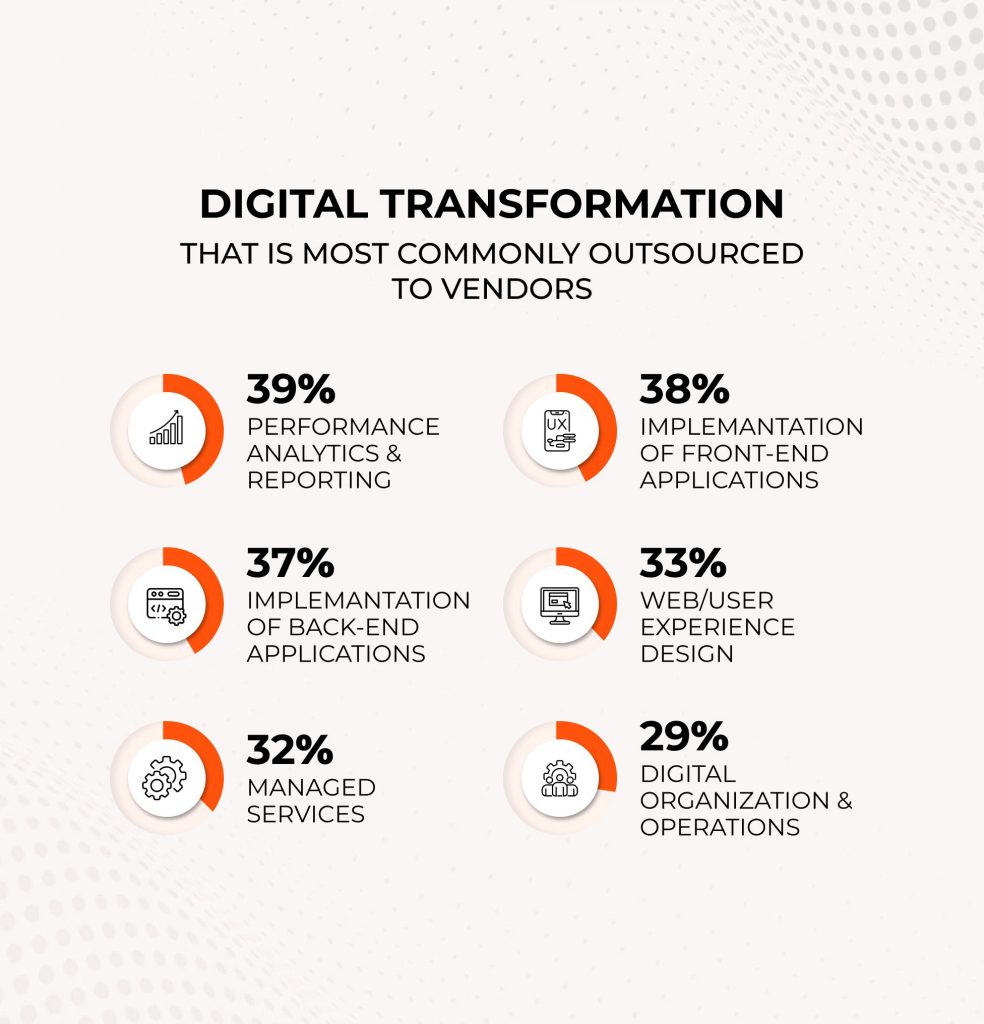 Advantages of Managed IT Services in digital transformation:
1. Access to quality resources:
Resource-intensive large-scale digital transformations are needed. Transformation initiatives may be difficult for IT departments that are already overburdened with other mission-critical obligations.

By outsourcing your project, you reduce the workload on your internal workers and gain access to a brilliant pool of IT specialists who may possess the talents that your teams lack. Finally, outsourcing facilitates more efficient resource allocation and positions digital transformation initiatives for success without sacrificing other business areas.

2. Easy Scaling:
Investment in infrastructure is always thought to be costly since it needs to be upgraded or modified as business needs change. The majority of businesses spend a lot of money on additional purchases without fully utilizing the technology at their disposal. Instead of buying a rigid infrastructure, outsourcing IT service providers enable the business to make wise investments. Additionally, it specifies the level of scalability required for an organization to successfully complete a digital transition.

3. Supporting IT optimization
The process of addressing and resolving conventional company problems with the most recent technological advancements is known as digital transformation. It is also an effort to reframe business operations such that they give better value to customers by integrating cutting-edge technologies into the business process in addition to generating more income.

It's unclear whether businesses can properly use the most cutting-edge technologies, though. They still don't know how to set up IT networks correctly or how to employ the newest technology. By customizing new user-friendly technologies that best suit their business operations, a Managed IT Service provider can assist organizations in achieving both processes efficiently.
4. Experience and expertise:
Technology and domain knowledge over a wide range is required for digital transformation. Many of these abilities are prohibitively expensive, especially if they are rare and only used occasionally.

You can access resources that will bridge your technology gaps and give you the skill sets you are lacking for a flexible period of time by working with an outsourcing company. Outsourced teams typically have expertise in fields like corporate mobility or data science, which are crucial to digital transformation. You can therefore accelerate the pace of execution as a result.

5. Mitigate risks:
First-time business leaders who attempt to transform their processes are likely to find transformation to be exceedingly difficult. However, hiring an experienced Managed IT Services provider who has assisted numerous businesses with comparable transformations will give you considerably more confidence. These service providers are aware of the difficulties ahead and how to overcome them. They will be aware of the steps you must take to succeed.

Some outsourcing companies are even conversant with the issues that could occur because of industry-specific digital transformations. You not only get to save time and money by outsourcing the process to a corporation that understands how to accomplish your business goals, but you also lower the risk associated with errors or unforeseen issues.
6. Keeping Critical Process Running:
Any fundamental business function where new technology is implemented may experience several complications and pauses in the business process flow. This issue can be solved by an IT service provider that offers outsourcing services with a committed group of experts. By thoroughly assisting in the selection, installation, and techniques of using the correct tools in the right way without causing any turmoil in the business process, they can guide a business to achieve digital transformation.
Conclusion:

For businesses hoping to dominate their respective markets in the future, going digital is a need. However, because technology advances so quickly, the majority of internal IT resources are unable to identify the appropriate solutions for their organization's transformational path due to a lack of business or technical expertise.

You can benefit from new technology, have access to cutting-edge talent, and have access to specialized knowledge that enables developing a sound strategy by outsourcing processes and tasks to knowledgeable suppliers.

Are you looking for an Offshore Managed IT Services expert to help you take the next steps in your journey? Get in touch with us at deqode.com. Our teams enable companies across different industries to achieve their goals thanks to targeted expertise in tech innovation.
FAQs:

Q. Why do businesses need digital transformation?
A. The digital transformation of an organization enables it to adapt to shifting client needs and, as a result, thrive going forward. Thanks to technological advancements, businesses may now compete more successfully in a dynamic economic climate.

Q. What's in a digital strategy?
A. The ability to adapt to shifting client demands and grow over time is made possible by a company's digital transformation. The advancement of technology enables businesses to compete more successfully in a dynamic economic environment.

Q. How can I find a reliable outsourcing partner to achieve digital transformation?
When searching for an outsourcing partner, it is important to consider factors such as their reputation, ability to meet your needs and the cost of their services. It is also essential to have a clear understanding of the terms of the agreement and to have a comfortable communication and reporting plan in place.