Web3, a technology built upon the blockchain basics, is gaining high traction these days, and it is all set to create a revolution in how businesses operate. More precisely, it is about ownership and transparency in every business transaction. On the other hand, cloud computing is another transformative technology trend that several businesses are ready to invest in. Going forward, these two technologies are believed to create better business opportunities. Leveraging top cloud services and blockchain development services can help businesses to stand ahead and see sustainable growth.
GoodFirms has identified Deqode for its broad experience and versatile skills in Web3, and cloud computing services that put the Company as one of the top market influencers through the Leaders Matrix program. Operating through multiple locations in the United States and India, Deqode offers broad-spectrum development services to businesses worldwide, covering app development, blockchain development, Web3, cloud services, business process management, Managed IT Services, and much more.

Recently, the company has enhanced its focus on wide-ranging blockchain development services, including Web3 & decentralized apps (dApps) development, distributed ledger technology (DLT) solutions, cryptocurrency solutions (wallets and exchanges), smart contracts & auditing, and security token offering (STO) launch. GoodFirms conducted a podcast with Deqode and learned more about this. The Leaders Roundtable Podcast by GoodFirms focuses on engaging various experts in the IT sector to gather valuable insights on the latest trends and innovations in the market.
For the year 2022, GoodFirms named Deqode as the "Best Company to Work With."
If you are looking for the top blockchain development companies for your business, Deqode is the right choice for you, recognized by GoodFirms Leaders Matrix. Deqode has proved its exceptional developmental skills and innovative approach by providing clients with solutions that enable them to upsurge their businesses to the next level. Deqode takes pride in significantly contributing to the success of its clients' businesses and has earned excellent client reviews and loyalty. GoodFirms recently recognized Deqode as the "Best Company to Work With" in 2022.

A few reviews of Deqode: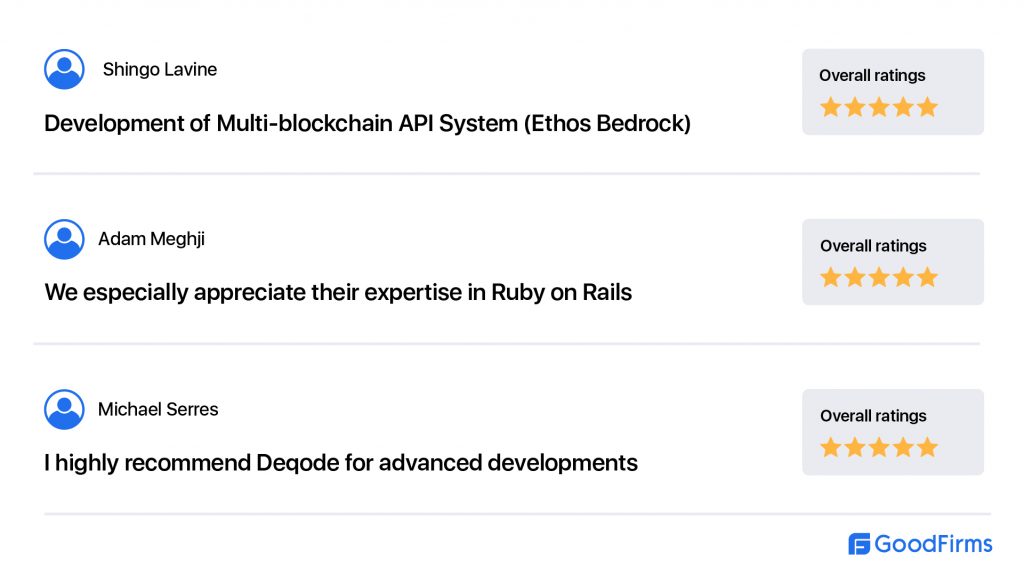 Deqode – Vision, Strength & Scope
Deqode's core strength lies in their passion and ability to innovate and think outside the box. In 10 years of its existence, Deqode has developed and maintained its reputation as a trusted blockchain development partner globally, helping businesses across numerous industries, including healthcare, financial services, supply chain, telecom, and more, solve complex problems using trending technologies. With its clientele spread across the United States, Europe, and Singapore, the company aims to accelerate the implementation of blockchain technology, with an enhanced focus on Web3 and dApps development.

Besides blockchain development, Deqode provides numerous business solutions to its clients, including app development, cloud services, business process management, and more. Deqode also offers team-as-a-service (TaaS) services, providing high-performance teams for their clients, enabling them to save time and focus more on their core competencies.

Deqode created Ethos Bedrock, a sophisticated, high-performance blockchain financial services (BFS) platform that powered the client's retail product with over 100,000 customers globally. The client has rated the Deqode team a 5/5 for their work quality and customer support on this project. Bitfolios, another Deqode client, highly recommends Deqode for its advanced development skills and services.

"We strive to deliver best-in-class solutions built by world-class people. We believe in providing the best experience to our clients and team members while developing the best quality solution. We work with world-class people who don't only leverage technology – but are pioneers and use innovation and deep industry insights to solve problems." – Deqode

Why is Deqode the Best Company to Work With?
Deqode is a software engineering company for new-age businesses. Their team of highly skilled professionals works with organizations across the globe to design and deliver exceptional digital experiences. Their versatile services include application development, cloud consulting, DevOps consulting, business process management, Managed IT Services, quality engineering, blockchain, user interface/user experience (UI/UX) design, and product development.

Offering high-quality, innovative development solutions to cover the comprehensive needs of its clients across diverse sectors is the ultimate goal of Deqode as one of the top blockchain development companies. The company aims to convert clients' dreams into reality through its best-in-class products and services.

"Deqode's placement in the GoodFirms' Leaders Matrix report reflects the company's expertise in delivering blockchain development, app development, TaaS, and cloud services in a way that enables its clients to enhance their business performance, boost return on investment, and rise to new heights leaving all their limitations behind," says GoodFirms.

The Leaders Matrix analysis research by GoodFirms is based on certain key algorithms meticulously designed to evaluate the companies' performance. To qualify as the topper in this domain, the companies must possess an outstanding experience in the market, deliver quality services, and have a vast clientele with positive feedback.

Deqode underwent an extensive assessment under the GoodFirms Leaders Matrix program covering the service landscape, verified client reviews, experience in the domain, market, competitive positioning, and much more. The evaluation helped bring out valuable information about Deqode's capabilities, competitive differentiation, and market position. The research methodology was highly analytic, and the results were derived based on the company's core competencies and a 360-degree performance view.
About the "Best Company to Work With" Badge
"Best Company To Work With" is an exclusive program run by GoodFirms where the Leaders Matrix companies are recognized with a Badge, an exclusive article about the Company, and a supporting PR. Such recognition stands as a support to developing trust and authenticity within the B2B community. It also enables the participating companies to improve their ranking – rank higher in the Leaders Matrix categories, receive inbound backlinks from GoodFirms LeadersRoundtable podcast campaign, and get a certified Badge saying, "Best Company to work with."
About GoodFirms
GoodFirms is a B2B research, review, and listing platform helping businesses accelerate their digital journey and maximize the value of modern technology. The company connects service providers with service seekers through a comprehensive and thoroughly researched fact-based list of the best services and solutions. Recognized as the most reliable source for the B2B market, GoodFirms has world-class experience with partners across the globe.